The 2022 Cassidy Gathering of the Clan, will be held at the Killyhevlin Lakeside Hotel, located just south of Enniskillen in County Fermanagh and along the scenic River Erne.
The rally starts on Friday July 22nd and concludes with the Clan Banquet on Sunday July 24th.
Cassidys worldwide have already booked their place at the table and are looking forward to meeting and being welcomed by local Cassidy to the land of our Ancestors. It is gratifying to note that a number of those booked for the 2022 Gathering have attended on previous years.
The weekend event celebrates Irish culture and history, including local history and the Cassidy role within it, through stories, musical performances, and genealogy and cultural presentations.
There will be a guided tour of the area where Cassidy originated and, of course, the Sunday evening Gala Dinner, which is always one of the main events.
The 2017 Gathering (the last rally due to the pandemic) was a huge success as the Clan Members stood on Devenish Island to witness the Inauguration of Nuala Cassidy of Lurgan, County Armagh, as "An Caisideach," or chief of the Cassidy Clan.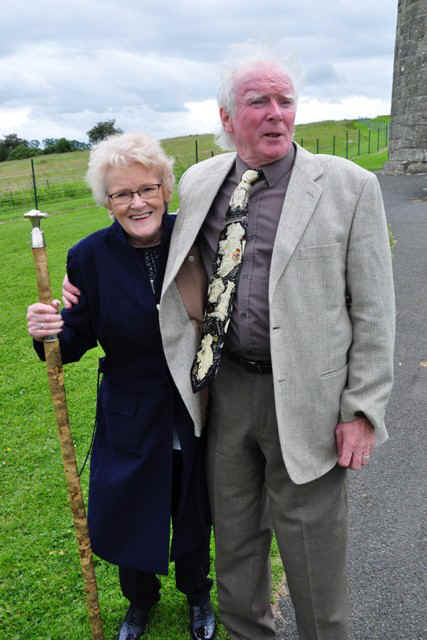 All registered members can nominate a person for the office of An Caisideach.
Please do not hesitate to ask questions or make suggestions should you feel so inclined as we want to insure your full enjoyment at this gathering. If you have your family history I would be grateful if you could send me a copy.
Looking forward to greeting you in Enniskillen,
Nuala Cassidy, An Chaisideach
2022 Cassidy Clan Rally Programme
All events are either at or start at the Killyhevlin Lakeside Hotel.
Friday, 22 July 2022
Noon – 2 p.m. – Registration
4 p.m. – All Clan Member General Meeting plus Election of An Caisideach
[Dine at your leisure]
7:30 p.m. – Meet the Cousins (fellow Cassidy rally attendees) with music and storytelling
Saturday, 23 July 2022
10 a.m. – noon – Cassidy family and local history lecture plus Cupla focal Gaeilge (a few words of Irish)
1 p.m. Bus tour of Enniskillen and Lake Erne area (weather permitting) – we will visit historic sites and other places of interest including Enniskillen Castle, the Cassidy Ancient Rath, Traditional Fermanagh Mummers and the Janus Stone
[Dine at your leisure]
8:00 p.m. – Meet the Cousins 2
Sunday, 24 July 2022
10:30 a.m. – Devenish Summer School – lectures by guest speakers
2 p.m. – Visit to historic Devenish Island and its historic round tower
Gala Clan Dinner
6:30 p.m. – reception
7:00 p.m. – dinner – an evening of good company, food, drink and entertainment
Reservations and Registration
To register for the 2022 Cassidy Clan Rally please complete our registration form by clicking here.
The approximate cost of attending the Rally (including Clan Gala Dinner on Sunday night) is £190.00 per couple or £110.00 per person.
We have a family rate for 2 adults and 2 children (ages 12-16) of £320.00
Special discounts are provided upon request for large groups.
To secure your reservation for the 2022 Cassidy Clan Rally please use PayPal to make a deposit of £25 per person by clicking here.
Final payment is requested by 1July 2022.
Important Note – We set the charges for the rally to cover our costs, and not make any profits. Our prices may have to be adjusted to cover costs, depending on the number of participants.
Accommodations
The rally cost covers all programs, bus and boat transport and the gala dinner. It does not include lodging. Attendees must make their own reservations for accommodation.
We have negotiated a discounted rate at the Killyhevlin Lakeside Hotel. Please ask for the Cassidy Clan Rally discount if you wish to stay at the hotel.
Other hotels in the area, assuming you will have a rental car, include the luxurious Manor House Country Hotel. It is a lovely lakeside hotel North of Enniskillen, the main city in the county. The Killyhevlin Hotel is near Enniskillen, but it's only about a 20 minute drive between the two hotels.
The Lough Erne Resort on the western side of the lake is also excellent. There are several hotel options in Enniskillen itself. Take a look at the Belmore Court Motel and the Enniskillen Hotel.
Booking.com lists a large number of hotels, B&Bs and other lodging in County Fermanagh, so there should be something available for every budget.