The video at this link will bring a smile to all Cassidys worldwide. It is a concert by Na Casaidigh (or The Cassidys) recorded on October 29, 2015 for TG4, the Irish language broadcaster.  Na Casaidigh is a band formed by the sons of Sean and Noirin Ó Caiside.  Sean was designated honorary Chief of the Cassidy Clan for life. Sean served in this position from 1991 to 2003.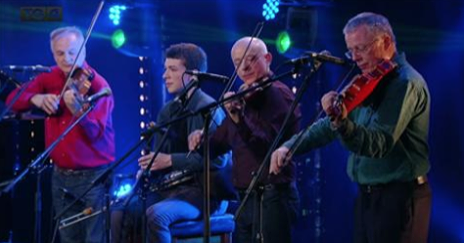 The concert, entirely in Irish, features the brothers joined by the children. It is an absolutely delightful and distinctive treatment of traditional Irish music combined with Na Casaidigh's  own compositions.
The O'Casaide brothers have been playing and singing together since their childhood in Gweedore, County Donegal.  Since then their harmonies, energy and command of a dazzling number of instruments has placed them in the front rank of traditional Irish.
Na Casaidigh has released five acclaimed albums, including Óró Na Casaidigh, which went platinum and topped the Irish charts for three weeks.   Na Casaidighs appearances in front of U.S. Presidents Ronald Reagan in Dublin Castle and Bill Clinton on College Green brought them to the attention of television audiences worldwide.