By Brent Cassidy
I have been interested in our family roots in Ireland since I was a "wee lad". I spent every day during the summers at my Grandpa's country store, which was tucked away in Mocksville, North Carolina. It was a treat listening to stories my grandpa and other local gentleman told about the "good 'ol days."
I especially remember many family stories, including what life was like when my grandpa was a boy growing up in Chesterfield, South Carolina. It was here when I first heard tell of association with our family and Ireland.
Several years have passed since then and I now live in Oulu, Finland. I have visited Ireland the last 2 summers and my passion for making the connection in our "homeland" burns hotter than ever. I have discovered much of my family lineage in America from the diligent research of a few family members. My goal now is to make the connection in Fermanagh.
This past summer, I was fortunate to travel to County Fermanagh for the first time. It was nice because my parents were able to join me. The purpose of this first visit to Fermanagh and the surrounding area was merely to see and learn more about the area where our family descends.
We arrived on June 3, 2001, and stayed in a Bed and Breakfast in Irvinestown.  We read in the "Impartial Reporter" local newspaper, that we missed Bill Clinton by one week. It seemed as if he had a really nice visit and we were proud since we supported him and shared the same link to the area.
After a good nights sleep and another tasty Irish breakfast, we were on our way to explore Fermanagh. The weather was typical; cool with rain-like clouds, but the air was fresh and I was ecstatic about the reality of being here.
We visited Devenish Island first and it was magnificent. I have read a great deal of the significance of Devenish to the Cassidy's and it was an honor and relief to finally be here.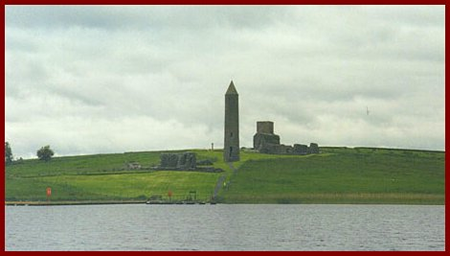 I felt like I was back in time with the marvel of the round tower, ruins of the monastery, two churches, and the gravestones of those once present here resting peacefully away in the country side. The non-traditional high cross also caught my "lens" as it stands tall beside the ruins of the upper church. I was impressed with the preservation of the ruins and definitely will return to Devenish Island.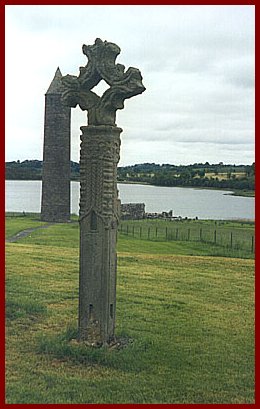 Following Devenish Island, we took a guided tour around Lower Lough Erne. It was fabulous! Our guide, Mr. John Cunningham, who is a local historian and has written 20 books about the history of Co.Fermanagh, was knowledgeable, extra friendly, and professional showing us around the Lough. He showed us and explained many interesting facts and places we wouldn't have discovered on our own.
We visited BallyCassidy Post Office, which is located in Ballycassidy. It is a small area, but I was proud to be standing in the ancestral home of all Cassidys. [Editors Note: Unfortunately the post office has been closed and the "Ballycassidy Post Office" sign removed.]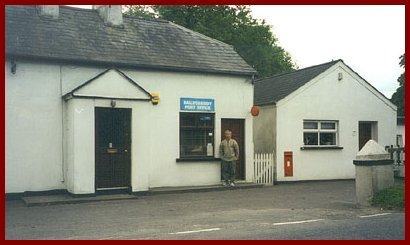 We also visited the Cassidy Ancient Rath, too, as well as other churches, castles, and areas around Lower Lough Erne.
The day was extraordinary, enlightening, and educational. Mr.Cunningham guided us "off the beaten track" along Lower Lough Erne. It was full of beautiful, panoramic scenery accompanied with many interesting, historical, and real-life stories from the area that will remain with us.
County Fermanagh was similar to the rural areas of the Carolinas. Green fields and valleys, many with cows grazing, were prominent everywhere along Lough Erne and the rest of the county. There was peat bog and bog cotton, colorful flowers, numerous farms and tractors, and many friendly faces. We learned quick to give a "thumbs up" when meeting someone on the road, too. We felt at home and welcome here in Fermanagh.
The Cassidys were scholars and physicians, and many remain that today, but have moved out into the world to help others. Maybe that can be applied to my life. Maybe it's in my roots, blood, and hereditary that I have went out unto the world to help others. I am proud and lucky to have visited "Cassidy Land" with my parents.
Next summer, I will return to Co. Fermanagh to hopefully meet and talk with cousins that I am really close to connecting with our family lines. Now that I have a feel for the area and made some essential contacts, this goal is realistic and I hope to share more in the near future when this goal has been accomplished. Until then, God Bless!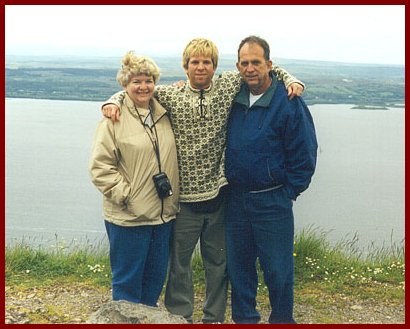 About the Author:  Originally from North Carolina, Brent Cassidy lives in Finland with his wife and daughter.  He is  kindergarten teacher and winter sport fanatic.  He serves as the Festival Organizer for the Irish Festival of Oulu.  Free time is made up of snowboarding, cross-country skiing, ice hockey, and playing the bodhrán and tin whistle, as well as writing and family research.