"It is with great sadness but also the deepest appreciation for a life well lived and incredible contributions spanning three decades to the Cassidy Clan that we announce the passing of the Cassidy Clan Chieftain ("An O' Caisideach") Nuala Cassidy. After a long illness Nuala passed away early this morning, 7 November, in County Armagh, Northern Ireland.
Nuala was inaugurated as our Chieftain at the Clan Rally in 2017 during a ceremony on Devenish Island. While becoming Chieftain represented the pinnacle of her service to the Cassidy Clan, it is not hyperbole to state that the modern Cassidy Clan would not have commenced and thrived from its founding in 1991 to the present without Nuala's tireless efforts and incredible contributions – all on a voluntary, unpaid basis.
Nuala was simply the backbone of the Cassidy Clan. From its founding under the leadership of Colm Cassidy of County Clare, Nuala served as the Clan Secretary. She co-organized the first clan rally and each rally thereafter, eventually becoming the lead organizer of all Clan rallies.
Nuala also eagerly took on the role of Clan Genealogist, maintaining Cassidy records and assisting countless Cassidys from across the globe in tracing their Irish ancestors. Eventually, Nuala became Chairperson of the Cassidy Clan herself, and then Chieftain in 2017.
Nuala's warm smile, kindness, dedication, sense of humor and sharp intellect will be missed by all. I offer my deepest condolences to her family.
Please share your memories and experiences with Nuala here in the comments."
– Stephen Cassidy, Cassidy Clan Tánaiste (Deputy to the Clan Chieftain)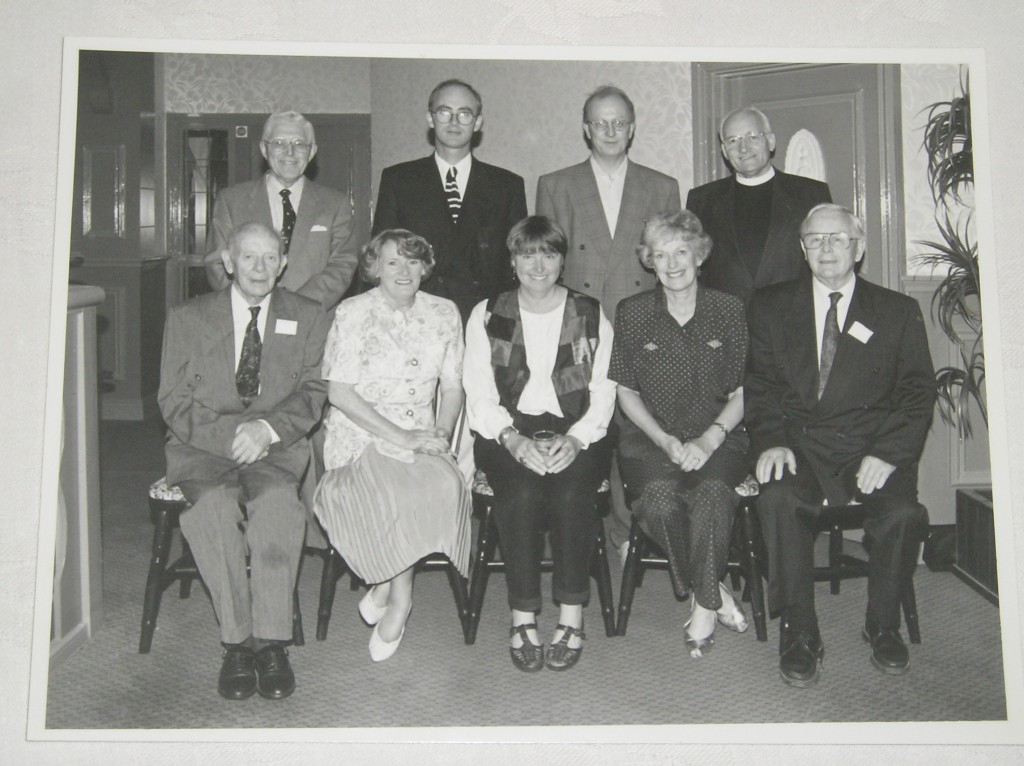 ---
[Editor: Thank you to Gearóid O Ceallaigh, Chairperson of the Clans of Ireland, for your thoughtful comments on the passing of Nuala Cassidy. In addition to leading the Cassidy Clan, Nuala was an active member of the Clans of Ireland for several decades.]
"I am deeply saddened to learn of the death of Mrs Nuala Cassidy, Clan Chieftan of the Cassidy Clan.
I knew Mrs Cassidy well over many years as a member of the Board of Clans of Ireland, until she retired due to health complications. Indeed, she continued to help with the Annual Cultural Summit registration for a number of years following her retirement.
Nuala always treated her various roles on the Board with respectful seriousness, while also always maintaining her sense of infectious humour. I often sought her advice during my initial period as a member of the Board. It will be Nuala's pleasant temperament that will remain as my abiding memory of her.
Tá sí i mo smaointe agus paidreacha. Ar dheis Dé go raibh a hanam uasal."
– Gearóid O Ceallaigh, Cathaoirleach (Chairperson), Clans of Ireland
---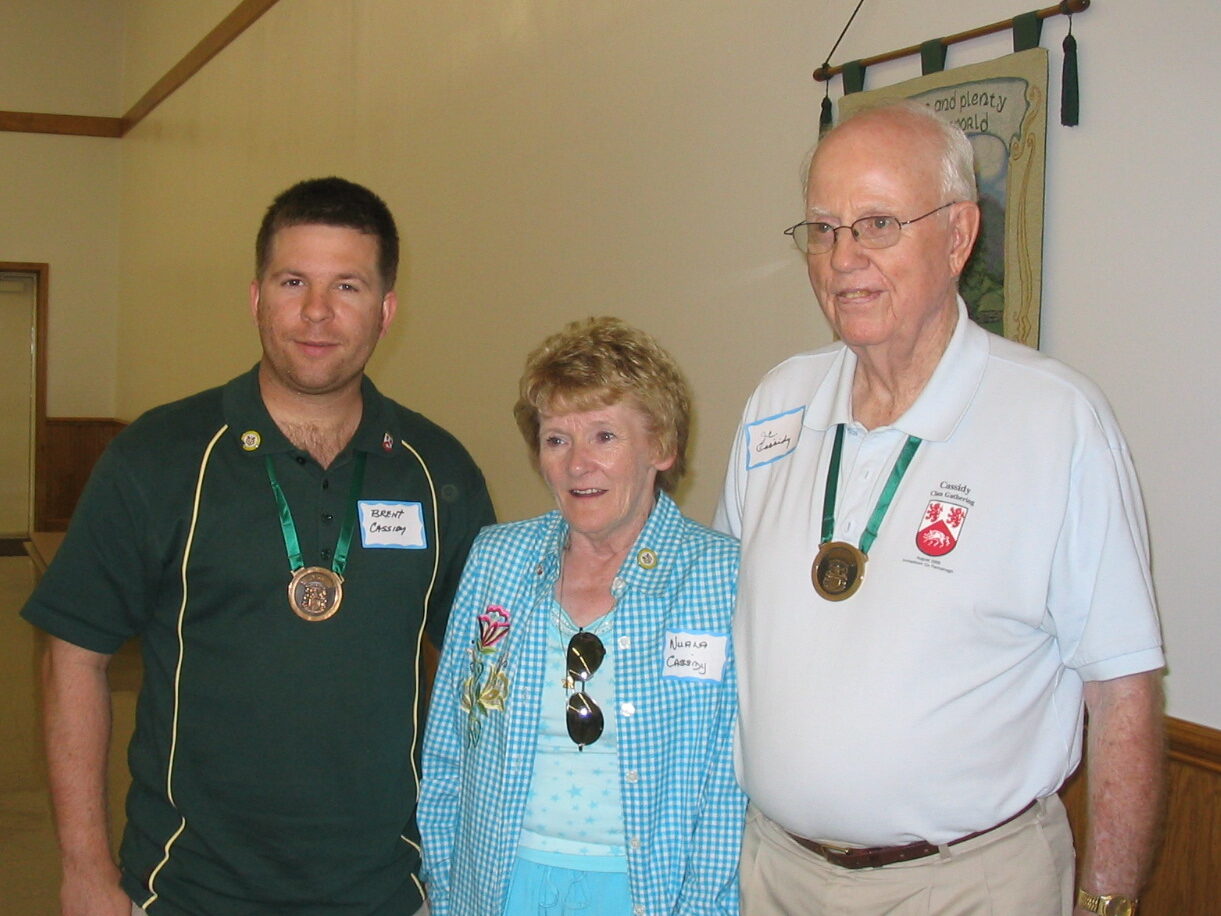 [Editor: Brent Ó Caiside has written a loving tribute to Nuala Cassidy. One of Nuala's strengths was recognizing the potential in people and welcoming them into leadership roles in the Cassidy Clan.]
Dear Nuala,
Ní bheidh do leithéid arís ann.
There will never be the likes of you ever again.
Today my heart breaks at the news that you have got your wings. I saw two rainbows in the sky yesterday and decided to take a walk not knowing what I would find, maybe a treasure. On my return, news came that you had passed and then it became clear that those rainbows were you smiling down on me. In every Irish sense of the symbolism of the rainbows and pots of gold, it was you. In that moment, I felt your presence and peace.
I am happy, grateful, blessed to have known you and shared so many loving memories over the last 21 years, but I believe everyone who came into your circle are better people than before meeting you. You were contagious with people, sharing stories, love and inspiration and treating everyone equal in the true sense of our Celtic ancestors.
Your love of Irish culture, history and the great Cassidy family that has spread all over Ireland and the world has inspired us all. I am forever grateful for your hospitality and warmth as a person to inspire my life into our Cassidy heritage, Irish history and culture. Forever grateful I am and little did I know that your inspiration drove me to go deeper, to learn more and discover self to be where I am today.
Thanks for welcoming my family to BallyCassidy so many times and for welcoming, showing and supporting our story from Roslea. Thank you for journeying across the pond to see where our family ended up and meet all your cousins.
Thank you for countless discussions, for encouragement and support. Thank you for welcoming my wife and family in to the Cassidy Clan and for visiting us in Donegal and then later in Oulu. The memories are countless, the craic and banter legendary, the love and hospitality forever a part of us. You were more than a friend, you were family and I will miss you forever while cherishing your memory.
Forever will you live in our hearts and forever will you be in my thoughts and anything I ever do for it was you who set me off on this Gaelic journey back in 2000. And, this is how I will celebrate your life, by continuing on as you did to inspire through peace, love and harmony. God bless you, your family and all that had the blessing to come in to contact with you.
When they write the next part of the Cassidy Clan's history, your name will be amongst the greatest.
Go n'éirí an bothar leat a Nuala 's go raibh míle míle mhaith agat, ár An Caiseadach mór go deo. Ní bheidh do leithéid arís ann.
My deepest condolences to Nuala, Leslie, Nodlaig, Sheila and all the extended family.
is mise le meas,
Brent Ó Caiside